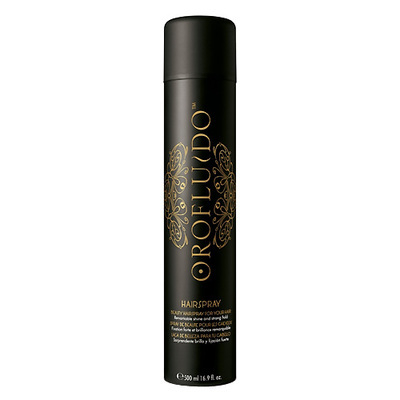 Orofluido Hairspray 500ml
Orofluido Hairspray 500ml
Orofluido Hairspray is a strong hold finishing spray suitable for all hair types.
Enriched with a nourishing blend of Argan, Cyperus and Linseed Oils, Orofluido Hairspray imparts a radiant shine onto the hair. Argan Oil is rich in Vitamin E and essential Fatty Acids and works to strengthen the hair and enhance elasticity whilst Cyperus and Linseed Oils provides a luxurious softness, light reflective shine and smoothes the cuticle for improved manageability.
Long lasting and non-sticky, this strong hold, long lasting hairspray is fast drying and infused with an exquisite warm and sensual fragrance. The perfect finishing touch for any hairstyle, Orofluido Hairspray leaves the hair free from residue and product build up and leaves your hair looking flawless all day long.