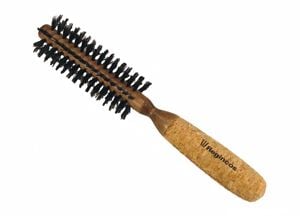 REGINCOS CORK HANDLE BRUSH 608
ref.: 20229 - 608 Cork 38mm.dia. and 8 rows of reinforced bristles.
REGINCOS CORK HANDLE BRUSH 608 38mm
The "Cork Grip System" developed by "Regincós" in 1987 offers total control. The non-slip grip is one of the most relevant innovations in the world brush market
Cork is a natural raw matterial, soft and comfortable to the touch, offering an excellent non-slip grip, static free, an isulator and highly resistant to chemicals.
Cork Grip brushes are made with "mahagony" hardwood, with heat resistant reinforced bristles (pure boar bristles & nylon), without damaging the hair structure.