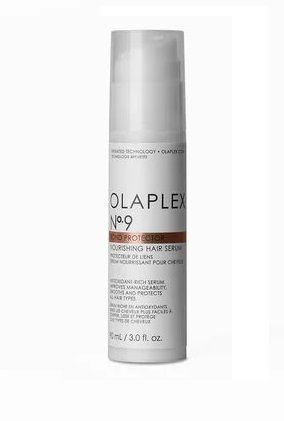 OLAPLEX No.9 Bond Protector Nourishing Hair Serum 90ml
Olaplex No.9 Bond Protector Nourishing Hair Serum 90ml
latest Powered by patented Olaplex Bond Building Technology™, the Olaplex No.9 anti-damage hair shield is a silicone-free, antioxidant-rich serum that increases manageability, delivers satin shine, provides style memory and protects hair from pollution and heat up to 450°F/232°C. No.9 is packed with antioxidant-rich ingredients including Red Algae Extract to neutralize free radicals, prevent damage, and nourish the hair from the inside out.

Pollutants create free radicals that destroy hair bonds and proteins causing tangles, split ends, breakage, and hair that's hard to style. Antioxidants can prevent free radical damage, but your hair doesn't absorb most of them like your skin does. Red Algae Extract bonds to wet hair like an invisible shield to block pollutants, nourish hair, and deliver potent antioxidants to the cuticle that neutralize free radicals before they cause damage.

Olaplex No.9 is Cruelty free, Vegan, and free from Gluten, Nuts, Parabens, Phosphate, Phthalate, Sulfate and Silicone.