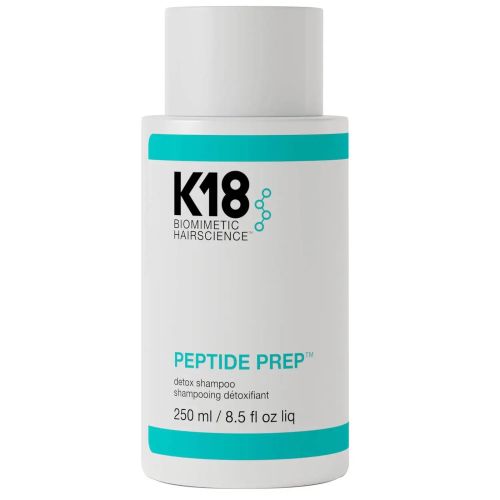 K18 PEPTIDE PREP™ detox shampoo 250ml
A color-safe clarifying shampoo with skincare-inspired ingredients + microdosed with the patented K18PEPTIDE™ to nourish hair while removing buildup for a clean, healthy hair canvas.
how it works
Deeply cleanses hair and scalp: A non-stripping lather works to unclog hair follicles while banishing dirt, oils, silicones, and things left behind from heavy product buildup including 99% of product buildup, 95% of sebum + a 76% copper reduction* after just 1 wash. *results observed on bleached hair tress after 1 wash with detox shampoo
Clears the path: Preps hair for maximum K18 Molecular Repair Leave-in Treatment results. Everything performs better on clean, clarified hair including color + chemical services, treatments, and styling products.
Creates ideal foundation for healthy hair: This color-safe formula was engineered to deliver a deeper cleanse without disrupting hair or being harsh on the scalp.