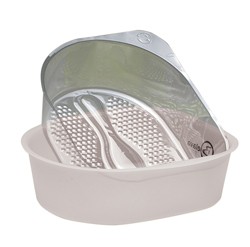 Belava Pedicure Bath - Starter Kit - White
Belava is proud to offer an original and simple solution in the effort to prevent the spread of bacteria, fungus, and other infectious diseases through the use if a footbath. Belava have introduced pre- fitted disposable liners for the Belava pedicure tub. Designed exclusively to minimize pedicurists work and maximize their client's safety.
Starter kit includes tub plus 20 disposable liners.